Explain your ceremony, give thanks, tell stories, tell jokes…there are many things you can do with a homemade wedding program. First off, let us start with some handy wedding program instructions to help you with the specifics of a good wedding program.

The wedding program is where you'll want to explain anything unusual in your ceremony—especially if you
are doing anything non-traditional or are of a different religion than many of your guests. Here is a sample of a Jewish wedding program. You can explain why you choose a certain tradition in your own words and what it means to the both of you. If you are going back to your roots and doing an old-fashioned broom jumping, here is a jumping the broom wedding program sample text you may want to include. If you wrote your own vows, you may want to include them in the program.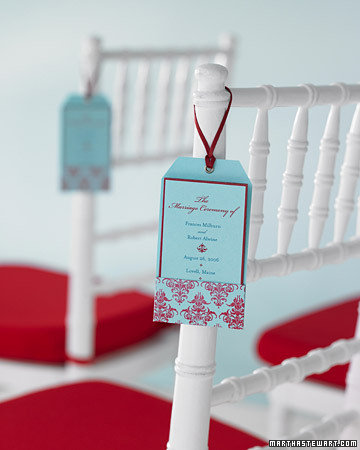 Wedding programs used to be where you'd list the names of the wedding party and family, a brief outline of ceremony order…and that was about it. Not anymore! You can personalize your do it yourself wedding programs just like any other aspect of your wedding, and you will probably want to write it in your own words, with your own personality shining through. The hardest part is deciding what to write and then picking out your wedding program paper. The rest of the process is simple!
The obvious things you'll want to include are the names of the people in wedding, location and date. Don't stop there though – you can (and should!) really get creative with wedding programs. Lyrics to a song that will be in your ceremony, quotes that you both like, the story of how you met, the proposal story, photographs of the two of you or your families are all unique ways to personalize your program.
Wedding programs are also the place to thank and give credit to important people. For example, you may want to thank your parents, or thank a mutual friend who introduced you. You could thank aunt Mary for doing your flower arrangements, etc. It is also nice to acknowledge all the guests as a whole, thanking them for being there.
Another thing some couples do is a short dedication to those family members who are not there, to those who have passed on. This could be a short paragraph such as "We wish to express our love to those that are no longer with us. Although they are not here physically, their presence is felt in our hearts." This is an especially nice sentiment for couples who may have deceased parents or grandparents.
Remember: Be yourself, write from the heart and let your creative mind flow. Happy planning!
***********************************************
For more information on Muse – A Wedding & Event Planning company based out of Portland, Oregon, visit www.eventmuse.biz.   Thanks for stopping by!